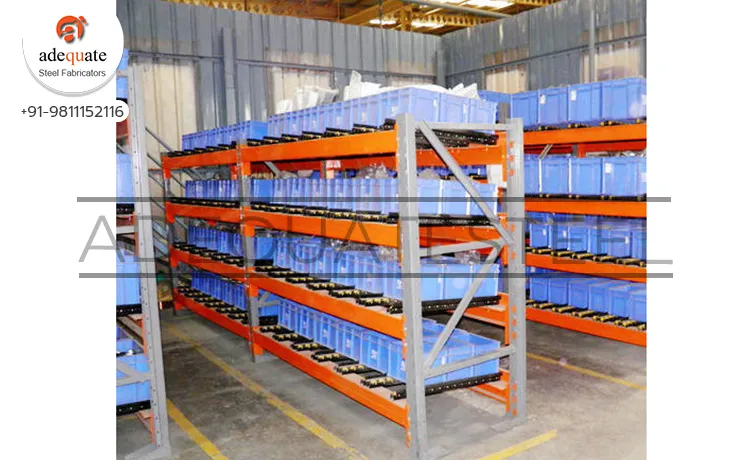 Adequate Steel Fabricators one of the eminent FIFO Rack Manufacturers in Delhi that you can consider for buying different storing systems that have multiple shelves and customized to your preferences. FIFO Rack stands for First In, First Out storage and picking system designed to handle items in a manner, so customers can receive fresh items without expiration dates. It is designed to double or triple the productivity and helps to drive-in static racks on the floor and control FIFO stock.
Foremost Advantages Of FIFO Racks:
Industrial FIFO Racks are designed to automate FIFO inventory control that eventually minimizes your warehousing and handling costs.
Maximizes warehouse capacity and can operate effectively in different temperatures.
It has cast aluminium flow wheels that ensure better protection, maximize the performance and life of the mechanism.
It doesn't require spring or mechanical adjustment that can improve the efficiency of your warehouse operations.
It helps to manage perishable foods that keep them preserved and minimize wastage.
It can double or triple the warehouse space and make it more efficient and productive.
What is FIFO Pallet Racks?
The First in First Out [FIFO] pallet rack is highly demanded in industries where there are perishable goods. These are better to use than traditional pallet racks because of their durability, dependability, easy assembling, de-assembling and more such features. Moreover, their functionality makes it worth using products in several food industries.
They have become an indispensable part of the storage industry, mainly for perishable good handlings. This can minimize the damage and increase your productivity. Moreover, it supports proper placement of products. As one of the noted Industrial Storage Rack Manufacturers, we promise to serve reliable solutions, as per your needs. Contact us to know more.
Call Our Experts to Know More About FIFO Rack Manufacturers!
Noted among the top-tier FIFO Rack Exporters and Suppliers in India, we provide an extensive range at industry-leading prices that can benefit your business and boost your profit margin. Call or submit your enquiry to know more. Our experts would be glad to help.
Retail Storage Racks
Get in touch
2015, Bank Street, Karol Bagh, New Delhi - 110005 (INDIA)